8 December, 2020
7 Comments
---
What are the differences between hemp and marijuana? Nope, it is not just you. The distinction between Hemp and marijuana has been confusing for many years. The confusion likely dates back to 1970 when political leaders decided to group all forms of cannabis as a Schedule I Drug, including hemp, in banning these substances under the Controlled Substances Act.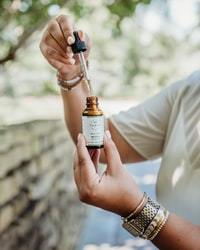 However, hemp is not the same as marijuana.
Let's take a more comprehensive look into their many variations.
Uses for Marijuana Versus Hemp
As most of us probably know, marijuana is psychoactive cannabis used for recreational or medicinal purposes. Some states have legalized marijuana, but it remains illegal federally.
On the other hand, hemp became legal in the US in 2018 through an amendment to the 2018 Farm Bill. Hemp has many uses that are very different from marijuana's benefits. This handy substance can also be purchased online and in many grocery stores and other businesses. Of hemp's known 25,000 possible applications, some of the uses that the average person might be more familiar with include:
Dietary Supplements
Clothing
Accessories
Skin Products
And many others
Despite these many (and in some cases quite noticeable) differences, the government sometimes has trouble keeping hemp and cannabis straight, so there is no wonder a great deal of confusion on the issue.
Does Hemp Make You High?
Lately, some people have started smoking pre-rolled cigarettes containing hemp or purchasing buds of hemp that resemble buds of marijuana. While some find that hemp flowers can give them an added boost of relaxation, smoking hemp will not make you high. CBD is present in hemp, but hemp has a meager amount of THC, which is the component of cannabis that gives off that psychoactive "high" effect.
Distinguishing Hemp from Marijuana
We've established that hemp and marijuana are different substances, though they were once grouped together and collectively banned. There are several distinct ways to differentiate between hemp and marijuana, including their appearance, cultivation, and chemical makeup.
Hemp and Marijuana: Chemical Makeup
Scientifically speaking, the main distinction between hemp and marijuana is in the composition of their chemicals, particularly tetrahydrocannabinol (THC). While most marijuana plants contain between five and twenty percent THC (with some as high as 25 to 30 percent), the maximum amount of THC in a hemp plant is 0.3%–this is why it is pretty much impossible to get high off of hemp. As previously mentioned, hemp does contain CBD, which is responsible for some of its many benefits.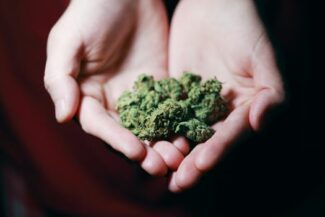 Hemp and Marijuana: Appearance
Appearance-wise, marijuana often does look quite a bit different from hemp. Hemp tends to have much skinnier leaves that often concentrate near the tip of the plant. Marijuana, on the other hand, has wider blades and a tight bud. When you look at both plants from a distance, marijuana can resemble a short, stout bush, while hemp can be skinny and get as tall as 20 feet!
Hemp and Marijuana: Cultivation
If you were to visit a marijuana farm and then a hemp farm, you would observe an enormous difference. Their growing environments are distinct, with hemp grown as close as four inches apart. Hemp is also grown in many different varieties, based on what the hemp will be used for, be it seed, fiber, or CBD. Marijuana, especially medical marijuana, is grown much further apart (as much as six feet between plants) and has a much shorter growth cycle (60 to 90 days versus hemp's 108 to 120 days). It is also worth noting that hemp and marijuana cannot be grown together.
Can hemp have healing benefits?
We've established that since hemp does not contain more than a trace amount of THC, it is impossible for hemp (of the legal variety, anyway) to provide users with a high. However, because some forms of hemp can be increased in CBD, which has anti-anxiety and anti-inflammatory properties, it can positively affect some users' well-being. The effectiveness of hemp as a therapeutic complement is the most popular use for hemp in the United States.
Though they were once categorized in the same illegal substances group, hemp is now legal in the United States. It is very different from some forms of cannabis (particularly those incredibly high in THC). Hopefully, this post has clarified some of the uncertainty surrounding the difference between hemp and marijuana for decades. Growers Choice Seeds is a proud supplier of ungerminated cannabis seeds, many of which are also high in CBD and others high in THC and everything in between.
The Whole Hemp Plant: A Plant With Immense And Diverse Potential
When individuals consider cannabis, they most quickly consider weed and regularly neglect weed's nearby family members: hem Contrasted with weed, the whole hemp plant has gigantic utility. Its uses keep on differentiating as new items containing hemp-inferred cannabinoids, for example, cannabidiol ("CBD"), arise to fill in ubiquity. Eminently, all bits of the hemp plant can be utilized here and there, remembering some examples for buyer merchandise, topicals, supplements and drinks, materials, bioplastics, biofuels, and building materials. Notwithstanding its utility, hemp's manageability and adaptability are likewise appealing. As hemp presents a feasible choice to battle environmental change as hemp is reasonable, multiplies can be utilized as an element for biodegradable eco-accommodating items.
The Parts Of Hemp Plants
The hemp plant separates into four general areas – the seed, the roots, the tail, and the leaves and blossoms. Each bit of the hemp plant offers utility, notwithstanding the most normally utilized pieces of the hemp plant. The hemp tail for fiber and leaves and blossoms for extraction of cannabinoids. For example, CBD, cannabinol ("CBN"), and cannabigerol ("CBG"). Different hemp types can be developed, which can be developed to create fiber, cannabinoids, or a mixture of the two. Hemp makers must know the specific reap's end utility to guarantee that the developed hemp will meet the expected purposes. Guaranteeing that the end designs are satisfied, makers should likewise screen the market to prepare for and turn in light of variances inside the market.
Hemp Roots and Hemp Seeds
Hemp roots are the least ordinarily used of the four parts of the hemp plant, and hemp seeds are getting progressively famous.
Hemp seeds can be used in various structures, especially hemp seed oil, seed cake, and nut.
Hemp seeds contain solid fats and high nutrients E, fiber, potassium, iron, and different supplements.
Hemp seeds are likewise a wellspring of protein as hemp seeds contain amino acids. Every hemp seed variety can be utilized in cooking and heating, protein powder, beauty care products, creature feed, hemp milk, and even brew.
Albeit not as well-known, hemp roots can be changed into natural manure to decay other raw materials and be added to soil to sustain plant development.
Hemp Stalks, Leaves, and Blossoms
Even though these specific items fill in notoriety, hemp roots and seeds are not as flexible as the stalks, leaves, and blossoms. Hemp, leaves, and flowers contain the plant's cannabinoid fixations. Hemp tail offers very different uses since hemp fiber. The Hurd (the coarse pieces of flax and hemp that stick to the fiber after it is separated)can be utilized to make an assortment of eco-accommodating and maintainable items. Counting, yet not restricted to, rope, building materials, natural manure, and paper.
These things can disturb and supplant existing customer items that don't offer a similar level of maintainability. Expressly, hemp and building materials have become an alluring and mainstream decision to substitute conventional materials. Hopefully, customers are progressively requesting maintainable materials and items to drive flexibly; in any case, the foundation essential to replace traditional materials with hemp to scale is now missing and should be improved to fulfill the need.
Cannabinoids
Past hemp tail, the leaves, and roses offer the most by and by searched after part of the hemp plant: its cannabinoids. Processors must concentrate cannabinoids from the hemp plant, imbue the extricated oils, and segregate them into different completed products. The extricated cannabinoids shift in structure: full-range remove, broad-spectrum concentrate, or recluses. The full-range release contains all the plant segments, including cannabinoids, terpenes, and other ordinarily happening components.
Remarkably, the full-range separate contains tetrahydrocannabinol ("THC") and must have under 0.3% THC to meet hemp's definition under the 2018 Homestead Bill. The expansive range includes cannabinoids, terpenes, and other naturally existing segments; in any case, the wide range of extricating doesn't contain THC and presents an attractive choice for makers to implant into "sans THC" shopper items.
Isolate is the perfect of the three formations and isn't in oil structure, yet a powder. Dissimilar to full and comprehensive range extricates, segregate the most refined and elevated CBD focus, ordinarily 98%+ pure. The varieties of hemp concentrate can be instilled into dietary enhancements, refreshments, supplements, makeup, and topicals, every one of which presents shifting attributes and employments.
Hemp Concentrate
All creation of hemp concentrate and items that contain hemp-determined fixings must be consistent with hemp items. All hemp created must have under 0.3% THC on a dry-weight basis. Completed articles should likewise contain under 0.3% THC. Extra administrative necessities are forced by the Food and Medication Organization (the "FDA") and the Government Exchange Commission (the "FTC") to shield purchasers from hazardous and mislabeled items. The FDA and FTC force these administrative guidelines upon any shopper item; notwithstanding, hemp items are exposed to expanded investigation given the absence of logical information to help these items' security and viability.
Here at Hoban Law, we have the skill to help you create, bundle, market, and sell hemp and completed hemp items. We understand the prerequisites of nice things under existing laws and guidelines and urge you to contact our office to plan a lawyer to examine your novel requirements.
Not All CBD Products Are Equal.
They all contain various measures of CBD and offer different beneficial impacts.
Along these lines, check its solidarity and quality levels when looking for CBD hemp oil.
Guarantee that the product you pick is safeguarded, substantial, and trustworthy.
Additionally, find out about the difference between hemp and CBD.
How To Find High-Quality CBD Hemp Oil
Check The Color
Did you realize that CBD hemp oil supplements varying solidarity and quality?
Indeed, presently, you know. There are three regular sorts of CBD oil crude, decarboxylated, and separated. Crude CBD hemp oil is commonly dark or dark green. Furthermore, no other purging cycles are completed whenever isolated from the hemp plant.
This way, your oil will include terpenes, and chlorophyll, just as different constituents. Decarboxylated CBD oils, then again, go through the decarboxylation cycle. The crude material regularly contains both THC and CBD as acidic particles.
However, the decarboxylation cycle eliminates the sharpness, improving the product's bioavailability.
The vast majority of burn-through pure CBD oil. It includes brilliant light shading and frequently goes through decarboxylation and filtration. This eliminates all the parts that were extra from the past extraction measure. At the end of the day, high-grade CBD hemp oil tastes precisely like cognac or vodka.
Check Its Source
Most high-grade CBD hemp items come from Colorado and Denmark. Notwithstanding, different areas develop great hemp-the Netherlands, Kentucky, just as Germany.
When looking for CBD hemp oil, check where the plants were developed and the types of cannabis. Remember that the dirt and atmosphere where the plants grow can influence the hemp oil quality.
As a 'hyperaccumulator,' cannabis rapidly retains the toxins it grows. Along these lines, make sure to decide on the correct choices. Else, you may wind up devouring poisonous substances.
European hemp ranches are famously known for having the strictest agrarian laws on the planet. All their hemp holds fast to numerous guidelines.CBD oil shouldn't contain over 0.3% THC. Moreover, it won't be permitted to sell as a food supplement. Automatic hemp, by and large, contains modest quantities of this substance.
Then again, CBD is non-poisonous and offers excellent helpful properties without causing you to feel high. In any case, the issue is that most producers don't give the correct data about their CBD hemp oil constituents. Along these lines, don't hurry to buy the first CBD-based item you run over.
Last Thoughts
Try not to risk buying CBD oils that don't show their essence. The correct product conducts a full rundown of its contents, mostly the THC and CBD content. It's also crucial to check the CBD hemp oil color and its source. Whenever you've done every one of these subtleties, you can have confidence that you will discover excellent CBD oils that will viably ease your manifestations.
UN commission reclassifies cannabis as no longer considered a risky narcotic.
While investigating a series of World Health Organization (WHO) recommendations on weed and its subsidiaries. The CND focused on the choice to eliminate cannabis from Schedule IV of the 1961 Single Convention on Narcotic Drugs — where it was recorded close by fatal, addictive narcotics, including heroin.
The CND's 53 Member States cast a ballot to eliminate cannabis – where it had been put for a very long time – from the strictest control plans, which even debilitated its utilization for clinical purposes.
With a notable vote of 27 in kindness, 25 against, and one abstention, the CND has made way for perceiving the restorative and remedial capability of the ordinarily utilized yet, at the same time, a generally illicit recreational medication.
Besides, as news reports indicate, the choice could likewise drive extra logical examination into the plant's proclaimed restorative properties for quite some time. It goes about as an impetus for nations to legitimize the medication for helpful utilization and reevaluate laws on its recreational use.
Long Wait
Last January 2019, the World Health Organization revealed six WHO backing transpire surrounding the scheduling of cannabis in UN drug control negotiations.
While the recommendations were initially set to be voted on during the CND's March 2019 session, according to news reports, many countries had requested more time to study the endorsements and define their positions.
Among WHO's many details, it explained that cannabidiol (CBD) – a non-intoxicating compound – is not subjected to international restrictions. CBD recently took on a leading position in wellness therapeutics and sparked a billion-dollar industry. Currently, more than 50 countries have embraced medicinal cannabis applications. Canada, Uruguay, and 15 US states have legalized their recreational usage, with Mexico and Luxembourg becoming the third and fourth countries.
Where They Stand
After voting, some countries made announcements on their positions. Ecuador approved all of WHO's proposals and urged that cannabis generation, sale, and use, have "a governing structure that guarantees good practices, quality, innovation, and examination progress."
Meanwhile, the United States voted to exclude cannabis from Schedule IV of the Single Convention while holding them in Schedule 1. stating it is "compatible with the science. Describing that while a safe and efficient cannabis-derived therapeutic has been obtained, cannabis itself remains to model vital dangers to public health and should continue to be regulated under the international drug control organizations."
Voting against Chile debated, among other things, that "there is a direct link between the use of cannabis and heightened prospects of suffering from depression, cognitive deficiency, anxiety, psychotic manifestations, among others." At the same time, Japan asserted that the non-medical use of the plant "might give rise to adverse health and social consequences, particularly amongst minors."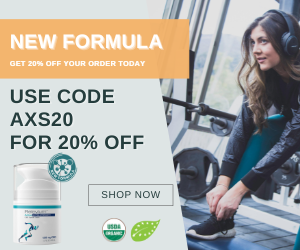 Conclusion,
We would love to know what you think. Would you do us a favor and leave a comment if you have a moment?
It enables us to improve upon everything we do.
We've made leaving a comment or question easy! Just go below.   
Some of the links in this article are affiliate links. If you were to buy something after clicking on one of these links, I would get a small commission that might help me get a new printer for the shop!  
Thanks for being part of the community!
Kevin
kevin@hempmedicalbenefits.com